Anarchism,
Libertarian, and Anti-Authoritarian
organizations links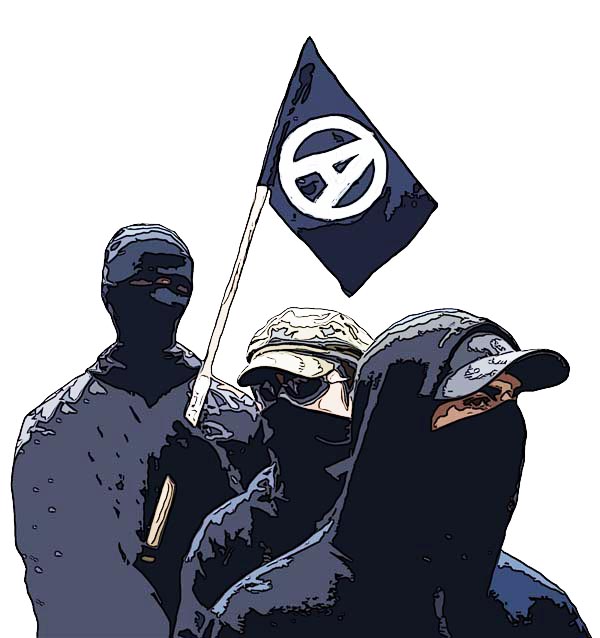 Image: By Fences and windows,
Edited by Punkerslut
Released Under the Creative Commons
"Attribution 2.0 Generic License"
Some of the links listed in this directory have a list of several URLs, each separated by a ~ symbol. The reason for this is that the website may have multiple, web domains where it is accessible. Providing each URL lets you know a little bit more about the website.
[A] Infoshop (Slovenia)
"Infoshop je socialni prostor za raziskovanje in razvijanje teorije ter prakse anarhističnih gibanj...."
http://a-infoshop.blogspot.com/
1 in 12 Club, The (Bradford, England, UK)
"...the 1in12 Library - originally opened in one of the smallest rooms of the club, by celebrated anarchist Albert Meltzer in 1996 - now occupies about half of the top floor, and continues to meet fortnightly on Thursdays for cataloging and planning sessions..."
http://www.1in12.com/
3Cs: Counter-Cartographies Collective
"We make the decision to politically inhabit the university but also from a position of autonomy- that is, both from within and against, based on logics of re-appropriation and exodus..."
http://www.countercartographies.org/
27 Social Centre (Denver, Colorado, USA)
"...a Radical Cultural Center located in the Jefferson Park neighborhood of Denver, Colorado. Our collective projects and events include Printing, Art Showings, Meeting Space for Activist Groups, Film Showings, Political Speakers and Readings, Local Radical Labor History."
http://www.27socialcentre.org/
2012 Boston Anarchist Bookfair (Massachusetts, USA)
"Anarchist bookfairs are about celebrating and exploring anarchist ideas, in the form of books (of course), workshops, films, and impromptu conversations. Bookfairs aim to bring together people from far and wide, as well as local community residents and activists."
http://www.bostonanarchistbookfair.org/
Автономное Действие Уфа (Autonomous Action of Ufa) (Russia)
"...является достижение бесклассового и безгосударственного общества в виде всеобщего общественного самоуправления и личной автономии, где свобода развития каждого является залогом свободного развития всех (либертарного коммунизма)."
http://www.inufa.org/
Автономное Действие (АД) (Autonomous Action) (Russia)
"...это межрегиональное либертарно-коммунистическое объединение, целью которого является реализация либертарного коммунизма (свободного социализма), основанного на таких принципах, как прямая демократия, общественное самоуправление и федерализм."
http://www.avtonom.org/
Сибирская Конфедерация Труда (CKT) (Russia)
"...межрегиональное объединение профсоюзов Российской Федерации, созданное в феврале 1995 года сибирскими анархо-синдикалистами, членами Конфедерации анархо-синдикалистов (КАС), действующей с 1989 года."
http://skt.pp.ru/
The Revolution and Social Justice Link-Directory:

Note:
Being listed in the links directory does not mean endorsement. These links are provided as a reference for those who want to find ideas or people for changing the world.